Green Infrastructure
King Mongkut's University of Technology Thonburi (KMUTT) can trace its origin to the Thonburi Technology Institute (TTI) which was established on February 4, 1960 by the Department of Vocational Education, Ministry of Education. TTI has as its objective to training of technicians, technical instructors and technologists .To have the power for set up not only new faculties and departments, but also introduce new academic programs, thus TTI became King Mongkut's University of Technology Thonburi (KMUTT) on March 7, 1998.
KMUTT has been recognized as the outstanding university in Thailand. KMUTT is not only content to just be one of Thailand's leading engineering university, but also aiming to have its impact felt globally. KMUTT has developed the Global Player Strategy, aimed at producing graduates who excel at communication and leadership as well as having outstanding technical skills. Through a combination of hard work and passion for learning and discovery, KMUTT has also offered our excellences in both teaching and research to educate and encourage our students and staffs forwards to be a Green University. KMUTT has responsibility to contribute our knowledge to conduct a role model on energy, environment safety management systems, which can promote the development of sustainability on our campuses and finally expand to our societies for a better quality of life. The university is committed to be a leader in sustainable development, in all activities from operations, teaching and research.
Campuses & Sites
KMUTT is one of Thailand's leading research institutes which provide environments that foster world-class education and research opportunities. Bio resources, Energy, Engineering, Environment, Linguistics, Science, and Technology are strengths of University. KMUTT has total built-up into 4 campuses that include: Bangmod Campus, Bangkhuntien Campus, Ratchaburi Learning Park, and Knowledge Xchange Campus with the total area of 2,561,952‬ sq.meters.
For more information : Good University Report
The table below represents the total campus area of King Mongkut's University of Technology Thonburi (KMUTT)
KMUTT Visual Tour
KMUTT Bangmod campus
The main campus of KMUTT. This 57.65 acre campus is located on the west side of Bangkok, embraced with Bangkok Metropolitan Park and Youth Center. It houses Faculty of Engineering, Faculty of Science, Faculty of Industrial Education and Technology, School of Energy, Environment and Materials, School of Information Technology, School of Liberal Arts, the Joint Graduate School of Energy and Environment, Graduate School of Management and Innovation, Institute of Field Robotics, Institute for Scientific and Technological Research and Services, Computer Center and KMUTT Library. Bangmod campus has been promoted as Green and clean campus due to surrounding area is cover with green area. Furthermore, KMUTT is also known as Walk and Bike society campus where more than 3,500 bikers attend activities per year.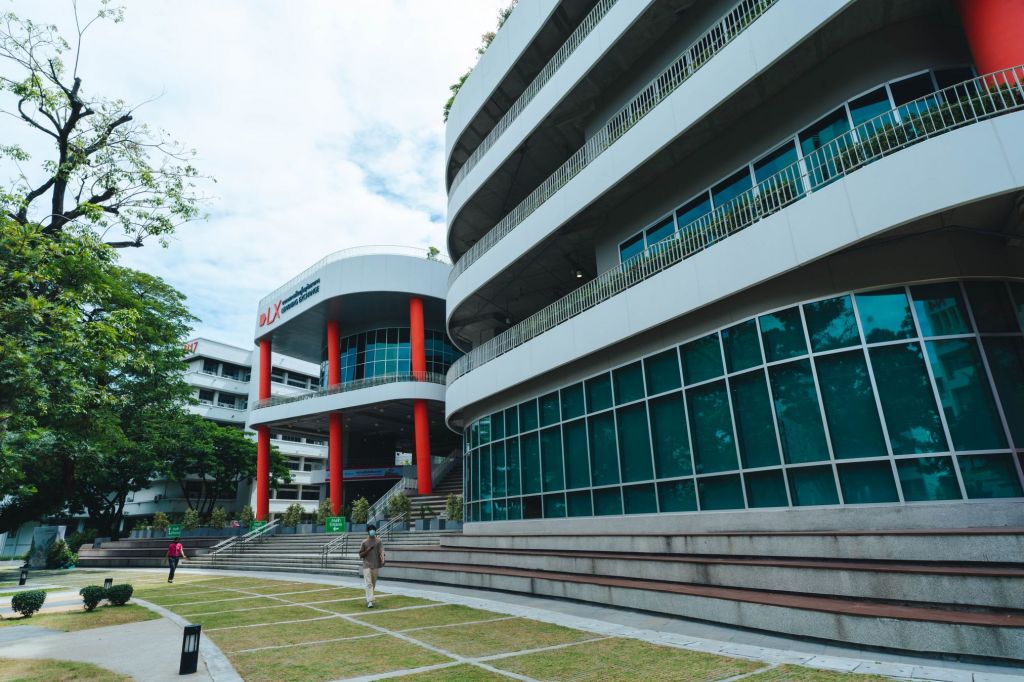 KMUTT Bangkhuntien Campus
The first University Technology Park in Thailand which develop scale up facilities and pilot plant on food, feed, biofuel and Biopharmaceutical (3F+1P). This 133 acre campus is located 20 km away from KMUTT Bangmod Campus. Pilot Plant Development and Training Institute and Industrial Park are set up to not only create an Industry-ready workforce but also want to scale up and development of innovative process technology. School of Architecture and Design and School of Bioresources and Technology are also located in this campus. This campus provide eco-friendly area on mangrove forests and renewable energy park with Pilot Green Building : Bioprocess Research& Innovation Building (BRI) which play an important role on Green Learning area for sustainable.
KMUTT Ratchaburi Campus
The Residential College for Faculty of Engineering.This 442 acre campus is located in Ratchaburi province. The province is full of cultural heritage, historical sites, beautiful landscapes and natural attractions where suitable for academic learning and researching.
KMUTT Knowledge Xchange Campus
KMUTT Knowledge Xchange Campus is a 20 floors building. It is located on Krung Thonburi road near the BTS Skytrain "Wong Wian Yai" station. This 1 acre campus is one of the most innovative community where industry players, knowledge and technology providers and public sector would meet. Most facility dedicated to stimulating knowledge exchange, entrepreneurship, partnerships and innovation alliances.