KMUTT focus on integrated Sustainable Concept into curriculum and provide scholarship for Energy and/or Environment Research
In accordance with the learning policy of "Anyone can Learn Anywhere Anytime," KMUTT places more focus on the self-directed learning of students by using e-Learning media. The university has also developed learning spaces throughout the whole campus. These include the Learning Garden, the Learning Exchange on the first to the fourth floor of the Learning Exchange Building, and the International Learning Space at the Faculty of Liberal Arts.
Education in KMUTT allow our students and staff attend for understanding of the complex issue of sustainability that cover climate change adaptation and mitigation, energy conservation, renewable energy, waste management, water management and green transportation. KMUTT provides the classroom courses and outside classroom projects for our students to learn in the real environments by transforming our campuses to be an ideal environment for developing awareness and innovative solutions to problems that will improve the world for current and future generations. To do that, our initiatives focus not only on campus operations but also on educating our students and working with our colleagues to ensure our graduates are environmentally conscious.
Goal : 30 % courses and subjects in KMUTT are related to sustainability offered within 2024
Current Status: In 2023, 76.20% of courses and subjects in KMUTT are related to sustainability concepts.
---
Green Courses in KMUTT
KMUTT apply a principle of Outcome-Based Education (OBE) for teaching in an effective way that enables learning happen and helps students to achieve the intended learning outcomes. OBE is a learner-centered learning philosophy that focuses on measuring student's performance. Therefore, what matters most in OBE is "what is learnt" rather than "what is taught". In addition, KMUTT also provide General Education course (GEN Ed) parallel with core curriculum. This course contributes knowledge in scientific research methodology and design process for creating innovative projects. Students engaged in learning process through activities and several field-trips. They would learn and understand problems encountered in community for becoming a social change agent.
---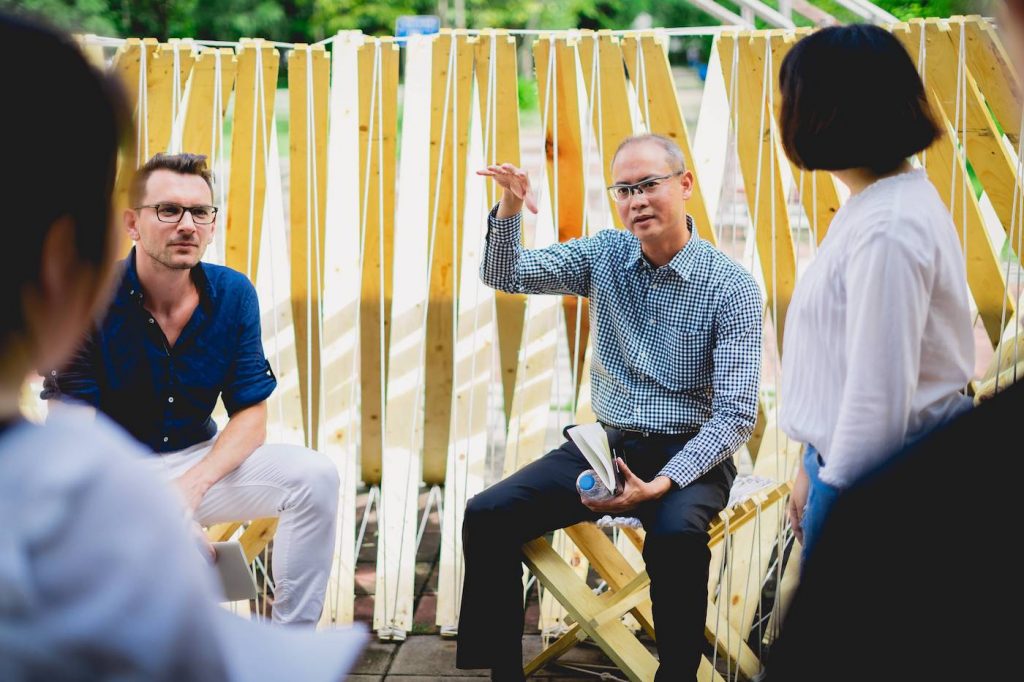 ---
Number of courses and modules related to environment and sustainability offered in 2023 = 1569 courses from 2,059 courses which is 76.20 %.
KMUTT integrated teaching and research by incorporating the content of SDGs 2030 into the courses, projects, works, and researches in order to create innovation and to develop Thai and global society for sustainability.
WEBSITES OF FACULTIES/SCHOOLS ARE LISTED AS FOLLOWS:
Faculty of Engineering link: https://eng.kmutt.ac.th/
Faculty of Science link: https://science.kmutt.ac.th/
Faculty of Industrial Education and Technology link: https://www.fiet.kmutt.ac.th/home/
School of Information Technology link: https://www.sit.kmutt.ac.th/
School of Architecture and Design link: https://soad.kmutt.ac.th/
School of Energy, Environment and Materials link: https://seem.kmutt.ac.th/
School of Bioresources and Technology link: https://sbt.kmutt.ac.th , https://www.facebook.com/School-of-Bioresources-and-Technology-KMUTT-693643057404537/
School of Liberal Arts link: https://sola.pr.kmutt.ac.th/homesola/
Graduate School of Management and Innovation (GMI) link: https://gmi.kmutt.ac.th/
Institute of Field Robotics (FIBO) link: http://fibo.kmutt.ac.th/
The Joint Graduate School of Energy and Environment (JGSEE) link: https://www.jgsee.kmutt.ac.th/v3/
ESC : Engineering and Science Classroom link: https://www.kmutt.ac.th/GiftEd/th/home
College of Multidisciplinary Sciences link: https://www.dd-ct.kmutt.ac.th/
Darunsikkhalai School for Innovative Learning link: https://e-school.kmutt.ac.th/
KOSEN KMUTT link: https://www.kmutt.ac.th/GiftEd/th/home
Sustainability Courses
---
List of Green Courses offered in all faculties to increase student 's understanding of the complex issue of sustainability that cover climate change adaptation and mitigation, energy conservation, renewable energy, waste management, water management ,green transportation, safety and social responsibility. Green Courses are providing in Undergraduate programs and Graduate programs in 2020 as below:
List of climate science and/or environmental sustainability Courses
คณะทรัพยากรชีวภาพและเทคโนโลยี (School of Bioresources and Technology – SBT)
คณะพลังงานสิ่งแวดล้อมและวัสดุ (School of Energy, Environment and Materials – SEEM)
บัณฑิตวิทยาลัยร่วมด้านพลังงานและสิ่งแวดล้อม (The Joint Graduate School of Energy and Environment – JGSEE)
คณะวิศวกรรมศาสตร์ Faculty of Engineering
| | |
| --- | --- |
| APE111 | MANUFACTURING PROCESSES |
| APE112 | MATERIAL ENGINEERING FOR AUTOMOTIVE PART MANUFACTURING |
| APE121 | ENGINEERING DRAWING |
| APE122 | CUTTING AND MACHINE TOOLS |
| APE200 | INDUSTRIAL TRAINING |
| APE211 | ENGINEERING MATERIAL LABORATORY FOR AUTOMOTIVE PART MANUFACTURING |
| APE231 | THERMODYNAMICS |
| APE241 | AUTOMOTIVE BODY MANUFACTURING |
| APE242 | AUTOMOTIVE BODY AND COMPONENT DESIGN |
| ARC115 | DESIGN SKETCH |
| ARC116 | DESIGN DRAWING |
| ARC117 | DESIGN FUNDAMENTALS I |
| ARC118 | DESIGN FUNDAMENTALS II |
| ARC123 | HISTORY OF ART AND DESIGN |
| ARC125 | HISTORY OF ARCHITECTURE AND INTERIOR ARCHITECTURE I |
| ARC226 | HISTORY OF ARCHITECTURE AND INTERIOR ARCHITECTURE II |
| ARC231 | THEORY OF ARCHITECTURE AND INTERIOR ARCHITECTURE |
| ARC241 | ARCHITECTURAL DESIGN I |
| ARC242 | ARCHITECTURAL DESIGN II |
| ARC251 | SITE PLANNING AND LANDSCAPE ARCHITECTURE |
| ARC261 | BUILDING MATERIALS AND CONSTRUCTION TECHNOLOGY I |
| ARC262 | BUILDING MATERIALS AND CONSTRUCTION TECHNOLOGY II |
| ARC271 | STRUCTURAL DESIGN I |
| ARC272 | STRUCTURAL DESIGN II |
| ARC281 | ENVIRONMENTAL TECHNOLOGY I: COMFORT FACTORS AND THERMAL DESIGN |
| ARC281 | ENVIRONMENTAL TECHNOLOGY I: COMFORT FACTORS AND THERMAL DESIGN |
| ARC329 | ANALYSIS OF CONTEMPORARY ARCHITECTURE |
| ARC343 | ARCHITECTURAL DESIGN III |
| ARC344 | ARCHITECTURAL DESIGN IV |
| ARC350 | PROFESSIONAL COMMUNICATION AND PRESENTATION |
| ARC351 | SUSTAINABLE URBAN MANAGEMENT |
| ARC352 | URBAN PLANNING |
| ARC356 | LANDSCAPE ARCHITECTURE II |
| ARC358 | DESIGN FOR SUSTAINABLE TOURISM DEVELOPMENT |
| ARC363 | BUILDING MATERIALS AND CONSTRUCTION TECHNOLOGY III |
| ARC373 | STRUCTURAL DESIGN III |
| ARC382 | ENVIRONMENTAL TECHNOLOGY II: ARCHITECTURAL LIGHTING AND ACOUSTICS |
| ARC383 | ENVIRONMENTAL TECHNOLOGY III: BUILDING SERVICE SYSTEMS |
| ARC445 | ARCHITECTURAL DESIGN V |
| ARC446 | ARCHITECTURAL DESIGN VI |
| ARC452 | SPECIAL TOPIC STUDY II : REVIT |
| ARC452 | SPECIAL TOPIC STUDY II : FILM AND ARCHITECTURE |
| ARC453 | SPECIAL TOPIC STUDY III : ANALYSIS OF WESTERN ART AND ARCHITECTURE |
| ARC455 | COMPUTER IN ARCHITECTURAL DESIGN |
| ARC461 | BUILDING MATERIALS AND CONSTRUCTION IV |
| ARC484 | ENVIRONMENTAL TECHNOLOGY IV: ENERGY-EFFICIENT BUILDING DESIGN TECHNIQUES AND SIMULATION |
| ARC492 | BUILDING COST ESTIMATION |
| ARC493 | CONSTRUCTION MANAGEMENT |
| BCT672 | BIOFUEL |
| BIT641 | TREATMENT AND UTILIZATION OF BIOLOGICAL WASTES |
| BIT666 | SPECIAL TOPIC I: PHYTOREMEDIATION: REMEDIATION OF ENVIRONMENTAL CONTAMINANTS |
| BIT761 | SELECTED TOPICS : EFFECT OF INDOLE-3-ACETIC ACID TO PLANTS FOR REMEDIATION OF GASEOUS POLLUTANTS |
| CHE103 | MATERIAL AND ENERGY BALANCES |
| CHE104 | FUNDAMENTALS OF MATERIAL AND ENERGY BALANCES |
| CHE473 | CHEMICAL PLANT SAFETY |
| CHE530 | INDUSTRIAL WASTE TREATMENT |
| CHM105 | CHEMICAL SAFETY |
| CHM281 | INTRODUCTION TO INDUSTRIAL POLLUTION, TREATMENT AND CONTROL |
| CHM366 | INDUSTRIAL AND ENVIRONMENTAL CHEMISTRY LABORATORY |
| CHM382 | FUNDAMENTAL OF WATER AND WASTEWATER TREATMENTS |
| CHM481 | UNIT OPERATIONS AND DESIGN IN WASTEWATER TREATMENT SYSTEMS |
| CHM485 | CHEMISTRY AND MANAGEMENT OF HAZARDOUS MATERIALS AND WASTES |
| CHM551 | CHEMICAL SAFETY AND MANAGEMENT |
| CHM609 | PRINCIPLE OF GREEN CHEMISTRY |
| CHM680 | INDUSTRIAL WATER PURIFICATION |
| CHM681 | INDUSTRIAL WASTEWATER TREATMENTS |
| CHM684 | INDUSTRIAL HAZARDOUS CHEMICALS AND WASTE MANAGEMENT |
| CHM685 | CHEMISTRY OF THE AQUATIC ENVIRONMENT |
| CHM715 | GREEN CHEMISTRY |
| CMD121 | HISTORY OF COMMUNICATION TOOLS, TECHNOLOGY AND MEDIA |
| CMD142 | TOOLS AND TECHNOLOGY FOR IMAGES MAKING |
| CMD212 | COMMUNICATION AND VISUAL REPRESENTATION |
| CMD213 | COMMUNICATION WITH SEQUENCE, SOUND AND MOTION |
| CMD214 | CORPORATE IDENTITY AND BRAND STRATEGY |
| CMD215 | TYPOGRAPHIC COMMUNICATION |
| CMD222 | THEORY OF COMMUNICATION |
| CMD223 | DESIGN, MEDIA AND CULTURE |
| CMD231 | RESEARCH METHODOLOGY |
| CMD232 | DESIGN METHODOLOGY |
| CMD242 | TOOLS AND TECHNOLOGY FOR TEXT AND IMAGES |
| CMD243 | COMBINING MEDIA |
| CMD314 | COMMUNICATION AND INTERACTION |
| CMD315 | COMMUNICATION WITH FORM AND SPACE |
| CMD325 | PSYCHOLOGY FOR DESIGNERS |
| CMD326 | CULTURE AND IDENTITIES |
| CMD345 | SIMULATION AND MODELING |
| CMD346 | POST PRODUCTION TECHNOLOGY |
| CMD351 | PRECEDENT STUDY |
| CMD352 | PROFESSIONAL, LEGAL AND ETHICAL ISSUE |
| CMD361 | SPECIAL TOPIC STUDY I : ART THINKING AND INNOVATION |
| CMD362 | SPECIAL TOPIC STUDY II : WEB DEVELOPMENT FOR DESIGNER |
| CMD363 | SPECIAL TOPIC STUDY III : WEB DESIGN |
| CMD401 | COMMUNICATION DESIGN PROJECT PREPARATION |
| CMD402 | COMMUNICATION DESIGN PROJECT |
| CMD453 | COOPERATIVE STUDY |
| CMD454 | COMMUNICATION DESIGN SEMINAR |
| CMD455 | PREPARATION FOR PROFESSIONAL LIFE |
| CTE434 | WATER SUPPLY AND SANITARY ENGINEERING |
| CVE483 | WATER RESOURCES DEVELOPMENT |
| CVE686 | CLIMATE CHANGE AND WATER RESOURCES |
| CVE692 | FLOOD PROTECTION AND DRAINAGE |
| CVE704 | SPECIAL TOPICS I : ROADSIDE DESIGN |
| CVE704 | SPECIAL TOPICS I : SUPERPAVE MIX DESIGN AND ADVANCE PAVEMENT ANALYSIS |
| CVE773 | ROAD SAFETY ENGINEERING AND PLANNING |
| DPL616 | DESIGN RESEARCH STUDIO I |
| DPL621 | STRATEGIC DESIGN PLANNING |
| DPL622 | DESIGN ENTREPRENEURSHIP |
| DPL627 | USABILITY TESTING |
| DPL629 | COGNITION&INFORMATION PROCESSING |
| DPL631 | ARCHITECTURAL ACOUSTICS |
| DPL632 | THERMAL COMFORT & INDOOR AIR QUALITY |
| DPL632 | THERMAL COMFORT & INDOOR AIR QUALITY |
| DPL636 | ART AND SCIENCE OF LIGHT |
| DPL639 | LIGHTING DESIGN FOR EXTERIOR |
| DPL642 | URBAN STRATEGIES AND SOCIAL PLANNING |
| DPL643 | SOUTHEAST ASIA URBANISM |
| DPL651 | RESEARCH AND PRACTICE IN VISUAL COMMUNICATION |
| DPL681 | SPECIAL TOPIC STUDY I : JACOB JENSEN DESIGN METHODOLOGY |
| ECE100 | ENGINEERING ELECTRONICS |
| ECE200 | ELECTRONICS TRANSDUCERS |
| ECE302 | ELECTRONIC COMMUNICATION |
| ECE385 | ELECTRONIC TECHNOLOGY LABORATORY I |
| ECE386 | ELECTRONIC TECHNOLOGY LABORATORY II |
| ECE421 | DIGITAL INTEGRATED CIRCUIT DESIGN BY USING HDL LANGUAGE |
| ECE431 | ELECTRONIC DEVICES AND CIRCUIT DESIGN II |
| ECE754 | ADVANCED DIGITAL CIRCUIT DESIGN |
| ECE758 | MICROPROCESSORAND MICROCONTROLLER |
| ECE790 | SPECIAL TOPIC I : PHOTOVOLTAIC TECHNOLOGY AND APPLICATIONS |
| ECE792 | SPECIAL TOPIC III : INDUSTRIAL CONTROLLER |
| EEE100 | ELECTROTECHNOLOGY (POWER) |
| EEE101 | ELECTROTECHNOLOGY LABORATORY (POWER) |
| EEE102 | ELECTROTECHNOLOGY I (POWER) |
| EEE103 | ELECTROTECHNOLOGY (POWER AND ELECTRONICS) |
| EEE104 | ELECTROTECHNOLOGY LABORATORY (POWER AND ELECTRONICS) |
| EEE105 | ELECTRIC CIRCUITS |
| EEE110 | ELECTRIC CIRCUITS |
| EEE111 | ELECTRIC CIRCUIT ANALYSIS |
| EEE112 | COMPUTER PROGRAMMING FOR ELECTRICAL ENGINEERS |
| EEE113 | ELECTRICAL ENGINEERING MATHEMATICS |
| EEE190 | ELECTRICAL PRACTICE |
| EEE220 | ELECTRICAL MACHINES I |
| EEE260 | ELECTRICAL INSTRUMENTS AND MEASUREMENTS |
| EEE270 | ELECTRONICS ENGINEERING |
| EEE271 | DIGITAL TECHNIQUES |
| EEE272 | INTRODUCTION TO DIGITAL AND MICROPROCESSOR |
| EEE291 | FUNDAMENTAL ELECTRICAL ENGINEERING LABORATORY I |
| EEE292 | ELECTRICAL ENGINEERING LABORATORY I |
| EEE300 | INDUSTRIAL TRAINING |
| EEE321 | ELECTRICAL MACHINES II |
| EEE322 | ELECTROMAGNETIC FIELDS |
| EEE330 | POWER GENERATION, TRANSMISSION AND DISTRIBUTION SYSTEMS |
| EEE331 | ELECTRIC POWER SYSTEM ANALYSIS |
| EEE332 | ELECTRICAL SYSTEM DESIGN |
| EEE361 | ILLUMINATION ENGINEERING |
| EEE372 | POWER ELECTRONICS |
| EEE373 | ELECTRIC MOTOR DRIVES |
| EEE380 | CONTROL SYSTEMS |
| EEE381 | MICROPROCESSORS |
| EEE391 | ELECTRICAL ENGINEERING DRAWING |
| EEE392 | FUNDAMENTAL ELECTRICAL ENGINEERING LABORATORY II |
| EEE393 | ELECTRICAL ENGINEERING LABORATORY II |
| EEE394 | ELECTRICAL ENGINEERING LABORATORY III |
| EEE397 | SEMINAR AND ELECTRICAL ENGINEERING MINI PROJECT I |
| EEE401 | SPECIAL TOPIC I : RAILWAY SIGNALLING AND CONTROL |
| EEE401 | SPECIAL TOPIC I : POWER PLANT AND SUBSTATION |
| EEE402 | SPECIAL TOPIC II : RAILWAY ELECTRIFICATION |
| EEE424 | ELECTRIC DRIVES |
| EEE433 | COMPUTER METHODS IN POWER SYSTEMS ANALYSIS |
| EEE434 | ENERGY CONSERVATION AND MANAGEMENT |
| EEE434 | ENERGY CONSERVATION AND MANAGEMENT |
| EEE435 | RENEWABLE ENERGY |
| EEE436 | DISTRIBUTED GENERATION SYSTEMS |
| EEE437 | ASSESSMENT OF RENEWABLE ENERGY SOURCES |
| EEE440 | POWER SYSTEM PROTECTION AND RELAYS |
| EEE442 | BASIC ELECTRICAL SAFETY |
| EEE452 | HIGH VOLTAGE INSULATION IN POWER SYSTEM EQUIPMENT |
| EEE473 | POWER ELECTRONIC CIRCUIT DESIGN TECHNIQUE |
| EEE474 | INDUSTRIAL ELECTRONICS |
| EEE498 | ELECTRICAL ENGINEERING PROJECT STUDY |
| EEE499 | ELECTRICAL ENGINEERING PROJECT |
| EEE531 | RAILWAY ELECTRIFICATION |
| EEE570 | CONTROL OF POWER ELECTRONICS CIRCUITS AND ITS APPLICATIONS |
| EEE581 | RAILWAY SIGNALLING AND CONTROL |
| EEE600 | SYSTEM ANALYSIS TECHNIQUES |
| EEE602 | ADVANCES IN ELECTRICAL ENGINEERING |
| EEE603 | ADVANCED MATHEMATICS FOR ELECTRICAL ENGINEERING |
| EEE630 | POWER QUALITY |
| EEE670 | POWER ELECTRONICS DEVICES AND ITS APPLICATIONS |
| EEE671 | POWER ELECTRONIC CIRCUIT DESIGN WITH ELECTROMAGNETIC COMPATIBILITY (EMC) |
| EEM611 | RENEWABLE, ALTERNATIVE AND EFFICIENT ENERGY TECHNOLOGIES |
| EEM613 | SUSTAINABILITY OF ENERGY, ENVIRONMENT AND MATERIALS |
| EET483 | SPECIAL TOPIC IN ELECTRICAL TECHNOLOGY III : MOTOR DIVE TECHNOLOGY |
| EEV602 | POLLUTION CONTROL TECHNOLOGY |
| EEV611 | AIR POLLUTION AND CONTROL |
| EEV620 | WASTEWATER TREATMENT TECHNOLOGY |
| EEV621 | WATER QUALITY AND TREATMENT |
| EEV623 | ADVANCED WASTEWATER TREATMENT |
| EEV627 | ECOSYSTEM AND SUSTAINABLE DEVELOPMENT |
| EEV631 | HAZARDOUS WASTE TREATMENT AND CONTROL |
| EEV632 | TREATMENT AND UTILIZATION OF SOLID WASTE |
| EEV635 | WASTE MINIMIZATION AND CLEAN TECHNOLOGY |
| EEV640 | ENVIRONMENTAL ANALYSIS |
| EEV641 | ENVIRONMENTAL IMPACT AND ASSESSMENT |
| EEV642 | ENVIRONMENTAL QUALITY MANAGEMENT |
| EMM605 | SPECIAL TOPICS I : ENERGY STORAGE TECHNOLOGY AND APPLICATION |
| EMM606 | SPECIAL TOPICS II : FUNDAMENTALS OF SOLAR ENERGY IN AGRICALTURE |
| EMM615 | ENERGY ECONOMICS |
| EMM631 | ENERGY POLICY AND PLANNING |
| EMM661 | ENERGY CONSERVATION IN INDUSTRIES |
| EMM662 | ENERGY CONSERVATION IN BUILDINGS |
| EMM665 | HUMAN THERMAL COMFORT AND INDOOR AIR QUALITY |
| ENV210 | FUNDAMENTALS IN ENVIRONMENTAL ENGINEERING |
| ENV211 | ENVIRONMENTAL CHEMISTRY |
| ENV212 | ENVIRONMENTAL CHEMISTRY AND MICROBIOLOGY LABORATORY |
| ENV213 | SURVEYING FOR ENVIRONMENTAL ENGINEERING |
| ENV214 | ENVIRONMENTAL ENGINEERING STATISTICS |
| ENV215 | ENVIRONMENTAL BIOLOGY |
| ENV331 | INDUSTRIAL SAFETY MANAGEMENT |
| ENV332 | ENVIRONMENTAL LAW |
| ENV341 | UNIT OPERATION IN ENVIRONMENTAL ENGINEERING |
| ENV342 | WATER SUPPLY ENGINEERING |
| ENV343 | BUILDING SANITATION |
| ENV381 | AIR POLLUTION CONTROL ENGINEERING |
| ENV401 | ENVIRONMENTAL ENGINEERING PROJECT PROPOSAL |
| ENV402 | ENVIRONMENTAL ENGINEERING PROJECT |
| ENV434 | ENVIRONMENTAL IMPACT ASSESSMENT AND MANAGEMENT |
| ENV437 | COMPUTER APPLICATIONS IN ENVIRONMENTAL ENGINEERING |
| ENV441 | ENVIRONMENTAL ENGINEERING LABORATORY |
| ENV444 | BIOLOGICAL UNIT PROCESSES |
| ENV445 | WASTEWATER ENGINEERING AND DESIGN |
| ENV446 | INDUSTRIAL WATER POLLUTION CONTROL |
| ENV471 | SOLID WASTE MANAGEMENT |
| ENV472 | HAZARDOUS WASTE MANAGEMENT |
| ENV482 | NOISE AND VIBRATION CONTROL |
| ENV511 | BASIC ENVIRONMENTAL CHEMISTRY |
| ENV512 | BASIC ENVIRONMENTAL MICROBIOLOGY |
| ENV533 | ENVIRONMENTAL SYSTEM AND MANAGEMENT |
| ENV536 | ENVIRONMENTAL ECONOMICS |
| ENV611 | FATE OF POLLUTANTS IN THE ENVIRONMENT |
| ENV613 | ENVIRONMENTAL RISK ASSESSMENT |
| ENV615 | EMERGING POLLUTANT AND ITS TREATMENT TECHNOLOGY |
| ENV641 | AQUATIC CHEMISTRY FOR ENVIRONMENTAL ENGINEERING |
| ENV644 | SURFACE WATER QUALITY MODELING |
| ENV646 | WATER QUALITY MANAGEMENT |
| ENV649 | ANAEROBIC TREATMENT OF INDUSTRIAL WASTEWATER |
| ENV649 | ANAEROBIC TREATMENT OF INDUSTRIAL WASTEWATER |
| ENV651 | ADVANCED WATER TREATMENT PROCESSES |
| ENV671 | TECHNOLOGIES OF HAZARDOUS WASTE MANAGEMENT |
| ENV673 | THERMAL TREATMENT PROCESSES |
| ENV675 | WASTE RECYCLING TECHNOLOGIES |
| ENV684 | AIR QUALITY MANAGEMENT |
| ENV691 | SEMINAR |
| ENV697 | STUDY PROJECT IN ENVIRONMENTAL ENGINEERING |
| EPE200 | ELECTRICAL MACHINES |
| EPE220 | FUNDAMENTAL OF ELECTRONICS AND DIGITAL CIRCUITS |
| EPE301 | POWER PLANT, TRANSMISSION AND DISTRIBUTION SYSTEMS |
| EPE360 | POWER ELECTRONICS |
| EPE402 | HIGH VOLTAGE ENGINEERING |
| EPE403 | ILLUMINATION ENGINEERING |
| EPE404 | ELECTRICAL SYSTEM DESIGN |
| EPE463 | AUTOMATION SYSTEMS |
| EPE490 | SPECIAL TOPIC I : ELECTRICAL AND MECHANICAL CONTROL |
| EPE680 | ADVANCED ELECTRICAL MACHINE |
| EPE771 | APPLICATION OF POWER ELECTRONICS |
| EPE789 | NUMERICAL TECHNIQUE FOR ELECTROMAGNETICS ANALYSIS |
| EPT390 | ELECTRICAL SYSTEM DESIGN AND SAFETY |
| EPT394 | ELECTRICAL ENERGY CONSERVATION AND MANAGEMENT |
| ESE321 | ECONOMICS ENERGY AND ENVIRONMENT |
| ESE323 | AIR AND NOISE POLLUTION CONTROL ENGINEERING |
| ESE361 | ENERGY ENGINEERING LABORATORY |
| ESE422 | ENERGY AUDIT |
| ESS501 | SCIENCE AND TECHNOLOGY FOR ENVIRONMENTAL MANAGEMENT |
| ESS521 | ENVIRONMENT AND SOCIETY |
| ESS522 | IMPACT ASSESSMENT OF SOCIAL, ENVIRONMENTAL AND HUMAN HEALTH |
| ESS653 | ENVIRONMENTAL PROBLEMS IN DEVELOPING COUNTRIES AND MANAGEMENT |
| ETT601 | ENERGY SEMINAR |
| ETT612 | BIO-ENERGY CONVERSION |
| ETT613 | ENERGY SYSTEM DESIGN |
| ETT616 | SOLAR ENERGY |
| ETT623 | SOLAR ENERGY IN AGRICULTURE |
| ETT662 | ENERGY RESOURCES AND CONVERSION TECHNOLOGY |
| ETT664 | SUSTAINABLE ENERGY |
| FDE662 | ENGINEERING MANAGEMENT IN FOOD INDUSTRY |
| FDE681 | FOOD ENGINEERING SEMINAR |
| FST101 | INTRODUCTION TO FOOD SCIENCE AND TECHNOLOGY |
| FST381 | FOOD PLANT SANITATION |
| FST396 | FOOD QUALITY CONTROL LABORATORY |
| FST463 | FOOD PACKAGING |
| FST481 | FOOD SAFETY AND QUALITY MANAGEMENT |
| FST603 | FOOD SAFETY PROTECTION AND QUALITY MANAGEMENT IN THE FOOD INDUSTRIES |
| GDM250 | FUNDAMENTALS OF GAME DESIGN AND DEVELOPMENT |
| GDM251 | INTRODUCTION TO TWO DIMENTION AND THREE DIMENTION GRAPHICS PROGRAMMING |
| GDM252 | ONLINE GAMES |
| GDM322 | SENSOR FOR GAMES |
| GDM350 | DATA STRUCTURE AND ALGORITHMS FOR GAME DEVELOPMENT |
| GDM351 | ADVANCED OF GAME DESIGN AND DEVELOPMENT |
| GDM352 | FUNDAMENTAL FOR GAME PROGRAMMING |
| GDM353 | GAMES ANIMATION |
| GDM370 | GAME DESIGN AND DEVELOPMENT WORKSHOP I |
| GDM371 | GAME DESIGN AND DEVELOPMENT WORKSHOP II |
| GDM440 | SPECIAL TOPICS IN GAMES DEVELOPMENT I |
| GDM441 | SPECIAL TOPICS IN GAMES DEVELOPMENT I I |
| GDM442 | SPECIAL TOPICS IN GAMES DEVELOPMENT III |
| GEN101 | PHYSICAL EDUCATION |
| GEN111 | MAN AND ETHICS OF LIVING |
| GEN121 | LEARNING AND PROBLEM SOLVING SKILLS |
| GEN211 | THE PHILOSOPHY OF SUFFICIENCY ECONOMY |
| GEN212 | MIND DEVELOPMENT THROUGH BUDDHISM FOR A FULFILLING LIFE |
| GEN222 | THAI SOCIETY, CULTURE AND CONTEMPORARY ISSUES |
| GEN223 | DISASTER PREPAREDNESS |
| GEN224 | LIVEABLE CITY |
| GEN231 | MIRACLE OF THINKING |
| GEN232 | COMMUNITY BASED RESEARCH AND INNOVATION |
| GEN241 | BEAUTY OF LIFE |
| GEN242 | CHINESE PHILOSOPHY AND WAYS OF LIFE |
| GEN301 | HOLISTIC HEALTH DEVELOPMENT |
| GEN311 | ETHICS IN SCIENCE-BASED SOCIETY |
| GEN321 | THE HISTORY OF CIVILIZATION |
| GEN331 | MAN AND REASONING |
| GEN332 | SCIENCE STORYTELLING |
| GEN341 | THAI INDIGENOUS KNOWLEDGE |
| GEN351 | MODERN MANAGEMENT AND LEADERSHIP |
| GEN352 | TECHNOLOGY AND INNOVATION FOR SUSTAINABLE DEVELOPMENT |
| GEN352 | TECHNOLOGY AND INNOVATION FOR SUSTAINABLE DEVELOPMENT |
| GEN353 | MANAGERIAL PSYCHOLOGY |
| GEN411 | PERSONALITY DEVELOPMENT AND PUBLIC SPEAKING |
| GEN412 | SCIENCE AND ART OF LIVING AND WORKING |
| GEN421 | INTEGRATIVE SOCIAL SCIENCES |
| GEN441 | CULTURE AND EXCURSION |
| GRD201 | INTRODUCTION TO GRAPHIC DESIGN |
| GRD202 | ILLUSTRATION |
| GRD203 | BOOK DESIGN |
| GRD221 | IMAGE MANIPULATION |
| GRD222 | PAGE LAYOUT |
| GRD223 | TECHNOLOGY AND MATERIAL FOR GRAPHIC DESIGN |
| GRD304 | PACKAGING DESIGN |
| GRD305 | PHOTOGRAPHY FOR DESIGN |
| GRD306 | ADVERTISING DESIGN |
| GRD307 | BRAND IDENTITY DESIGN |
| GRD324 | DIGITAL MEDIA DESIGN |
| GRD325 | TYPE DESIGN |
| GRD408 | ART DIRECTION |
| GRD409 | GRAPHIC DESIGN STUDIO |
| IDT102 | SAFETY AND HEALTH IN ESTABLISHMENT |
| INA211 | COLOR, MATERIALS AND PRESENTATION |
| INA241 | INTERIOR ARCHITECTURAL DESIGN I |
| INA242 | INTERIOR ARCHITECTURAL DESIGN II |
| INA311 | ERGONOMICS: SAFETY AND HUMAN DISABILITIES |
| INA311 | ERGONOMICS: SAFETY AND HUMAN DISABILITIES |
| INA312 | SPATIAL PERCEPTION AND PSYCHOLOGY |
| INA314 | AESTHETICS |
| INA315 | VISUAL DESIGN |
| INA317 | INTRODUCTION TO PAINTING |
| INA333 | INTERIOR ARCHITECTURE PROJECT PROGRAMMING AND SPACE PLANNING |
| INA343 | INTERIOR ARCHITECTURAL DESIGN III |
| INA344 | INTERIOR ARCHITECTUREAL DESIGN IV |
| INA352 | LIGHTING DESIGN |
| INA363 | INTERIOR ARCHITECTURAL MATERIAL AND FURNISHING |
| INA373 | INTERIOR ARCHITECTURAL CONSTRUCTION AND DETAILING |
| INA435 | RESEARCH METHODS FOR INTERIOR ARCHITECTURE |
| INA445 | INTERIOR ARCHITECTURAL DESIGN V |
| INA446 | INTERIOR ARCHITECTURAL DESIGN VI |
| INA452 | EXHIBITION DESIGN |
| INA455 | SPECIAL TOPIC STUDY II : ADAPTIVE HERITAGE REUSE |
| INA456 | SPECIAL TOPIC STUDY III : INNOVATIVE TECHNOLOGY DESIGN AND FABRICATION |
| INA457 | FURNITURE DESIGN AND WORKSHOP |
| INA464 | INTERIOR SHOP DRAWING AND DETAIL |
| INA494 | INTERIOR SPECIFICATIONS, COST ESTIMATION AND CONSTRUCTION MANAGEMENT |
| INA495 | PROFESSIONAL SALES AND MARKETING |
| INA496 | CODE OF CONDUCT FOR INTERIOR ARCHITECTURE |
| INA497 | INTERIOR ARCHITECTURAL CASE STUDIES AND FIELDTRIPS |
| INA591 | COOPERATIVE LEARNING |
| INA593 | INTERIOR ARCHITECTURAL SEMINARS |
| INA596 | BUSINESS MANAGEMENT AND ADMINISTRATION |
| INC481 | SPECIAL TOPIC IN CONTROL SYSTEMS AND INSTRUMENTATION ENGINEERING I : ELECTRICAL SYSTEM AND SAFETY FOR INDUSTRIAL |
| IND101 | INDUSTRIAL DESIGN FUNDAMENTALS |
| IND102 | INDUSTRIAL DESIGN AND MANUFACTURING |
| IND111 | INDUSTRIAL DESIGN ILLUSTRATION |
| IND112 | MATERIALS AND MANUFACTURING PROCESSING |
| IND113 | COMMUNICATION FOR MANUFACTURING |
| IND121 | PRODUCT LIFE CYCLE |
| IND122 | INTRODUCTION TO ART |
| IND123 | DESIGN HISTORY AND CULTURE |
| IND125 | APPLICATION OF FORM AND DESIGN VARIABLES |
| IND201 | INDUSTRIAL DESIGN AND HUMAN FACTORS |
| IND202 | INDUSTRIAL DESIGN AND BUSINESS |
| IND214 | MARKETING AND ECONOMICS |
| IND217 | PHYSICAL HUMAN FACTOR |
| IND218 | PSYCHOLOGICAL AND COGNITIVE HUMAN FACTORS |
| IND219 | SOCIAL AND CULTURAL HUMAN FACTORS |
| IND223 | RESEARCH FOR DESIGN |
| IND226 | INFORMATION DESIGN |
| IND227 | ADVANCED HUMAN FACTOR |
| IND231 | DESIGN FOR COMPETITION |
| IND232 | CRAFT PRODUCT DESIGN |
| IND252 | ADVANCED MATERIALS AND MANUFACTURING PROCESSING |
| IND254 | PACKAGING DESIGN |
| IND254 | PACKAGING DESIGN |
| IND255 | MODEL MAKING |
| IND256 | SPECIAL TOPIC STUDY I : UNDERSTANDING MANUFACTURING |
| IND256 | SPECIAL TOPIC STUDY I : DESIGN MANAGEMENT |
| IND256 | SPECIAL TOPIC STUDY I : EXPLORING SENSORY EXPERIENCES IN RETIREMENT HOMES |
| IND256 | SPECIAL TOPIC STUDY I : SERVICE DESIGN |
| IND257 | SPECIAL TOPIC STUDY II : DESIGN RESEARCH |
| IND257 | SPECIAL TOPIC STUDY II : COMMUNITY DESIGN |
| IND301 | COLLABORATIVE PRODUCT DEVELOPMENT I |
| IND302 | COLLABORATIVE PRODUCT DEVELOPMENT II |
| IND303 | INDUSTRIAL DESIGN INTERNSHIP |
| IND321 | SUSTAINABLE DESIGN |
| IND321 | SUSTAINABLE DESIGN |
| IND322 | DESIGN AND SOCIETY |
| IND336 | TOY DESIGN |
| IND339 | PHOTOGRAPHY |
| IND355 | COMPUTER-AIDED MEDIA |
| IND357 | COMPUTER-AIDED ENGINEERING I |
| IND364 | USER RESEARCH |
| IND401 | COLLABORATIVE PRODUCT DEVELOPMENT III |
| IND402 | INDUSTRIAL DESIGN COMPREHENSIVE PROJECT |
| IND421 | CREATIVE ENTREPRENEURSHIP |
| IND431 | BEHAVIORAL ANALYSIS AND DESIGN |
| IND433 | INTERFACE DESIGN |
| IND434 | HUMAN-PRODUCT INTERACTION DESIGN |
| IND435 | PRODUCT FORM AND SURFACE |
| IND465 | PRODUCT CHARACTERISTICS |
| ISE650 | SUSTAINABLE PRODUCTION AND LOGISTICS MANAGEMENT |
| JEE601 | SEMINAR FOR M.ENG / M.SC (ENERGY TECHNOLOGY & MANAGEMENT) |
| JEE601 | SEMINAR FOR M.PHIL (ENERGY TECHNOLOGY) |
| JEE601 | SEMINAR FOR M.SC (ENERGY TECHNOLOGY) |
| JEE609 | DISSERTATION FOR M.SC (ENERGY TECHNOLOGY) |
| JEE610 | THESIS (ENERGY TECHNOLOGY & MANAGEMENT) |
| JEE611 | SEMINAR FOR M.ENG / M.SC (ENVIRONMENTAL TECHNOLOGY & MANAGEMENT) |
| JEE611 | SEMINAR FOR M.SC (ENVIRONMENTAL TECHNOLOGY) |
| JEE611 | SEMINAR FOR M.ENG / M.SC (ENVIRONMENTAL TECHNOLOGY & MANAGEMENT) |
| JEE612 | DISSERTATION FOR M.PHIL (ENVIRONMENTAL TECHNOLOGY) |
| JEE615 | DISSERTATION FOR M.SC (ENVIRONMENTAL TECHNOLOGY) |
| JEE621 | ENERGY ECONOMICS |
| JEE625 | ENERGY AND ENVIRONMENTAL ECONOMICS, MANAGEMENT AND POLICY |
| JEE630 | THESIS (ENERGY TECHNOLOGY & MANAGEMENT) |
| JEE633 | ENERGY MANAGEMENT IN INDUSTRY |
| JEE634 | CLIMATE INFLUENCE ON BUILDINGS AND END-USE REQUIREMENTS |
| JEE636 | BUILDING PERFORMANCE ASSESSMENT |
| JEE637 | DAYLIGHTING APPLICATIONS |
| JEE640 | THESIS (ENVIRONMENTAL TECHNOLOGY & MANAGEMENT) |
| JEE658 | RENEWABLE ENERGY TECHNOLOGIES |
| JEE659 | ENERGY FROM BIOMASS |
| JEE681 | ENVIRONMENTAL CHEMISTRY AND ECOTOXICOLOGY |
| JEE682 | ENVIRONMENTAL AND HEALTH RISK ASSESSMENT |
| JEE696 | GREENHOUSE GAS MEASUREMENT, MONITORING AND ACCOUNTING |
| JEE701 | SEMINAR FOR PH.D (ENERGY TECHNOLOGY) |
| JEE702 | DISSERTATION FOR PH.D (ENERGY TECHNOLOGY) |
| JEE702 | DISSERTATION FOR PH.D (ENERGY TECHNOLOGY) |
| JEE711 | SEMINAR FOR PH.D (ENVIRONMENTAL TECHNOLOGY) |
| JEE712 | DISSERTATION FOR PH.D (ENVIRONMENTAL TECHNOLOGY) |
| MDA114 | DESIGN PRINCIPLES II |
| MDA115 | CONCEPTUAL DESIGN |
| MDA116 | ART HISTORY AND DESIGN |
| MDA117 | PRACTICAL DESIGN |
| MDA120 | INTRODUCTION TO PHOTOGRAPHY |
| MDA205 | HUMAN PERCEPTION IN DESIGN |
| MDA491 | MEDIA PLANNING AND PRODUCTION |
| MDT103 | GRAPHIC MEDIA DESIGN |
| MDT112 | COMPUTER PROGRAMMING FOR MEDIA |
| MDT203 | (ANIMATION TECHNIQUES |
| MDT206 | APPLIED STATISTICS FOR MEDIA TECHNOLOGY |
| MDT207 | RESEARCH FOR MEDIA |
| MDT213 | ELECTRICAL SYSTEMS AND SAFETY |
| MDT213 | ELECTRICAL SYSTEMS AND SAFETY |
| MDT214 | INTERFACE PSYCHOLOGY |
| MDT216 | MATHEMATICS FOR MEDIA TECHNOLOGY |
| MDT317 | DATA COMMUNICATION AND COMPUTER NETWORKS |
| MDT327 | INTRODUCTION TO VIRTUAL REALITY |
| MDT370 | MEDIA TECHNOLOGY WORKSHOP I |
| MDT380 | CAREER TRAINING |
| MDT390 | PROJECT STUDY |
| MDT419 | WEB PROGRAMMING |
| MIC101 | GENERAL BIOLOGY |
| MIC452 | ENVIRONMENTAL MICROBIOLOGY |
| MMD341 | MEDICAL AND SCIENCE MEDIA RESEARCH METHODOLOGY |
| MMD344 | HEALTH AND SCIENCE COMMUNICATION |
| MMD370 | MEDICAL MEDIA PROJECT STUDY |
| MMD380 | INTERNSHIP |
| MMD455 | DESIGNING FOR PRESENTATIONS |
| MMD458 | INFORMATION TECHNOLOGY FOR MEDICAL MEDIA |
| MMD460 | SPECIAL TOPICS IN MEDICAL MEDIA I |
| MTE111 | ENGINEERING DRAWING |
| MTE112 | INDUSTRIAL MATERIAL AND BASIC TECHNICAL TOOLS |
| MTE112 | INDUSTRIAL MATERIAL AND BASIC TECHNICAL TOOLS |
| MTE171 | AUTOMOTIVE TECHNOLOGY I |
| MTE211 | ELECTRICAL AND INSTRUMENTATION TECHNOLOGY |
| MTE211 | ELECTRICAL AND INSTRUMENTATION TECHNOLOGY |
| MTE231 | ENGINEERING STATICS |
| MTE231 | ENGINEERING STATICS |
| MTE232 | MECHANICS OF SOLIDS |
| MTE232 | MECHANICS OF SOLIDS |
| MTE233 | ENGINEERING DYNAMICS |
| MTE233 | ENGINEERING DYNAMICS |
| MTE241 | THERMODYNAMICS |
| MTE241 | THERMODYNAMICS |
| MTE242 | FLUID MECHANICS |
| MTE242 | FLUID MECHANICS |
| MTE272 | AUTOMOTIVE TECHNOLOGY II |
| MTE273 | AUTOMOTIVE TECHNOLOGY III |
| MTE282 | MEDIA INTEGRATION TECHNIQUE FOR MECHANICAL TECHNOLOGY EDUCATION |
| MTE300 | INDUSTRIAL TRAINING |
| MTE300 | INDUSTRIAL TRAINING |
| MTE342 | HEAT TRANSFER |
| MTE342 | HEAT TRANSFER |
| MTE343 | ENGINE AND COMBUSTION |
| MTE343 | ENGINE AND COMBUSTION |
| MTE344 | REFRIGERATION AND AIR CONDITIONING |
| MTE344 | REFRIGERATION AND AIR CONDITIONING |
| MTE351 | FUNDAMENTAL OF DYNAMICS SYSTEMS AND CONTROLS |
| MTE351 | FUNDAMENTAL OF DYNAMICS SYSTEMS AND CONTROLS |
| MTE381 | LEARNING MANAGEMENT AND MICRO-TEACHING FOR MECHANICAL TECHNOLOGY |
| MTE381 | LEARNING MANAGEMENT AND MICRO-TEACHING FOR MECHANICAL TECHNOLOGY |
| MTE381 | LEARNING MANAGEMENT AND MICRO-TEACHING FOR MECHANICAL TECHNOLOGY |
| MTE381 | LEARNING MANAGEMENT AND MICRO-TEACHING FOR MECHANICAL TECHNOLOGY |
| MTE382 | TEACHING INTEGRATION FOR MECHANICAL TECHNOLOGY |
| MTE382 | TEACHING INTEGRATION FOR MECHANICAL TECHNOLOGY |
| MTE383 | MECHANICAL TECHNOLOGY EDUCATION SEMINAR |
| MTE383 | MECHANICAL TECHNOLOGY EDUCATION SEMINAR |
| MTE384 | MECHANICAL TECHNOLOGY EDUCATION PROJECT STUDY |
| MTE384 | MECHANICAL TECHNOLOGY EDUCATION PROJECT STUDY |
| MTE401 | SPECIAL TOPICS I |
| MTE433 | MACHINERY AND DESIGN |
| MTE433 | MACHINERY AND DESIGN |
| MTE436 | MECHANICS OF MACHINERY |
| MTE436 | MECHANICS OF MACHINERY |
| MTE448 | ENERGY CONSERVATION IN BUILDING AND INDUSTRY |
| MTE448 | ENERGY CONSERVATION IN BUILDING AND INDUSTRY |
| MTE449 | THERMAL SYSTEM DESIGN |
| MTE449 | THERMAL SYSTEM DESIGN |
| MTE453 | MECHANICAL VIBRATION |
| MTE461 | MECHANICAL TECHNOLOGY LABORATORY |
| MTE484 | MECHANICAL TECHNOLOGY EDUCATION PROJECT STUDY |
| MTE485 | MECHANICAL TECHNOLOGY EDUCATION PROJECT |
| MTE486 | AUTOMOTIVE TECHNOLOGY TRAINING AND WORKSHOP MANAGEMENT |
| MTE486 | MECHANICAL TECHNOLOGY EDUCATION PROJECT |
| MTE487 | INSTRUCTOR PRACTICAL TRAINING |
| MTE491 | APPLIED MECHANICAL TECHNOLOGY TEACHING METHODOLOGY |
| MTE492 | APPLIED AUTOMOTIVE TECHNOLOGY TEACHING METHODOLOGY |
| MTE591 | INSTRUCTOR PROFESSIONAL INTERNSHIP I |
| MTE592 | INSTRUCTOR PROFESSIONAL INTERNSHIP II |
| MTE600 | EDUCATIONAL PARADIGM AND INTEGRATIVE TEACHING |
| MTE601 | SKILL AND TASKS ANALYSIS |
| MTE603 | DIGITAL MEDIA FOR TEACHING AND LEARNING |
| NRM601 | NATURAL RESOURCE MANAGEMENT |
| NRM605 | SCIENCE AND TECHNOLOGY FOR COMMUNITY RESOURCE MANAGEMENT |
| NRM613 | PRINCIPLES OF CONSERVATION BIOLOGY AND SUSTAINABLE DEVELOPMENT |
| NRM615 | FIELD TECHNIQUES FOR WILDLIFE STUDIES |
| NRM616 | POPULATION ECOLOGY |
| NRM617 | BEHAVIORAL ECOLOGY |
| NRM622 | COMMUNITY RESOURCE MANAGEMENT |
| NRM625 | GEOGRAPHIC INFORMATION SYSTEM FOR NATURAL RESOURCE MANAGEMENT |
| NRM632 | ECONOMICS OF NATURAL RESOURCE MANAGEMENT |
| NST694 | SPECIAL TOPIC I : SOLAR CELL TECHNOLOGY |
| NST695 | SPECIAL TOPIC II : NANOBIOSENSORS |
| PHT611 | POSTHARVEST LOSSES OF AGRICULTURAL COMMODITIES |
| PHT621 | POSTHARVEST HANDLING SYSTEMS OF AGRICULTURAL COMMODITIES |
| PHT622 | POSTHARVEST PHYSIOLOGY AND TECHNOLOGY OF AGRICULTURAL COMMODITIES |
| PHT623 | POSTHARVEST HANDLING SYSTEMS OF ORNAMENTALS |
| PHT631 | POSTHARVEST HANDLING SYSTEMS AND MANAGEMENT OF GRAINS |
| PHT632 | POSTHARVEST TECHNOLOGY OF SEEDS |
| PHT662 | POSTHARVEST PATHOLOGY OF AGRICULTURAL COMMODITIES |
| PPT111 | LAY-OUT DESIGN |
| PPT121 | PAPER AND WOOD FOR PRINTING AND PACKAGING |
| PPT121 | BASIC PRINTING AND PACKAGING TECHNOLOGY |
| PPT201 | STATISTICS AND ANALYSIS FOR PRINTING AND PACKAGING |
| PPT212 | PACKAGING DESIGN |
| PPT221 | GLASS AND METAL FOR PRINTING AND PACKAGING |
| PPT222 | PLASTIC FOR PRINTING AND PACKAGING |
| PPT223 | PRINTING INK AND CHEMICALS |
| PPT231 | PRE-PRESS PROCESS |
| PPT232 | PRINTING PROCESS |
| PPT241 | OFFSET PRINTING TECHNOLOGY |
| PPT251 | DRAWING TECHNIQUE FOR PACKAGE |
| PPT291 | EXPLORATION OF PRINTING INDUSTRY |
| PPT311 | COLOR REPRODUCTION PROCESS IN PRINTING |
| PPT322 | DRAWING TECHNIQUE FOR PACKAGING |
| PPT323 | BASIC ENGINEERING TECHNOLOGY FOR PACKAGING |
| PPT331 | PRINTING SUBSTRATES |
| PPT343 | POST-PRESS PROCESS |
| PPT351 | OFFSET PRINTING TECHNOLOGY I |
| PPT354 | FLEXOGRAPHIC PRINTING TECHNOLOGY |
| PPT355 | SCREEN PRINTING TECHNOLOGY |
| PPT356 | PRINTING MACHINERY AND MAINTENANCE |
| PPT357 | PACKAGING PRINTING TECHNOLOGY |
| PPT357 | PACKAGING PRINTING TECHNOLOGY |
| PPT361 | PACKAGING DYNAMICS |
| PPT362 | PACKAGING FOR FRESH AND PROCESS FOOD |
| PPT364 | PACKAGING PROCESS |
| PPT365 | DISTRIBUTION PACKAGING |
| PPT371 | PRINTING QUALITY CONTROL |
| PPT381 | FUNDAMENTAL RESEARCH METHODOLOGY |
| PPT390 | PROFESSIONAL PRACTICE |
| PPT451 | NON-IMPACT PRINTING TECHNOLOGY |
| PPT471 | PRINTING BUSINESS MANAGEMENT |
| PPT472 | PACKAGING DEVELOPMENT PROCESS |
| PPT473 | ENVIRONMENTAL MANAGEMENT IN PRINTING FACTORY |
| PPT474 | ENVIRONMENTAL MANAGEMENT IN PACKAGING |
| PPT633 | ENVIRONMENTAL MANAGEMENT FOR PRINTING |
| PRE394 | INDUSTRIAL SAFETY |
| PTE406 | TEACHING FOR SAFETY ENGINEERING |
| TEN111 | MANUFACTURING PROCESSES |
| TEN121 | FITTING AND MACHINE TOOL PRACTICE |
| TEN131 | ENGINEERING DRAWING |
| TEN222 | FUNDAMENTAL OF DIE MAKING PRACTICE |
| TEN223 | METROLOGY |
| TEN224 | CUTTING TOOL DESIGN |
| TEN251 | COMPUTER AIDED DESIGN AND MANUFACTURING |
| TEN300 | INDUSTRIAL TRAINING |
| TEN301 | COOPERATIVE EDUCATION |
| TEN313 | POLYMER AND POWDER METALLURGY FORMING |
| TEN325 | MACHINE TOOLS |
| TEN333 | TOOL ENGINEERING JIG AND FIXTURE |
| TEN334 | PLASTICS INJECTION MOLD DESIGN |
| TEN335 | METAL FORMING |
| TEN336 | SAFETY ENGINEERING |
| TEN336 | SAFETY ENGINEERING |
| TEN337 | INDUSTRIAL PLANT DESIGN |
| TEN338 | QUALITY CONTROL |
| TEN361 | MECHANICS OF ELASTIC AND PLASTIC DEFORMATION |
| TEN362 | MAINTENANCE ENGINEERING |
| TEN368 | STATISTICS FOR TOOL AND MATERIALS ENGINEERS |
| TEN436 | METAL DIE DESIGN I |
| TEN437 | METAL FORMING II |
| TEN438 | SEMINAR |
| TEN439 | TOOL ENGINEERING LABORATORY |
| TEN440 | PRODUCTION PLANNING AND CONTROL |
| TEN453 | PRODUCT DESIGN AND PROTOTYPING FOR INDUSTRY |
| TEN455 | RAPID PROTOTYPE |
| TEN471 | TOOL ENGINEERING PROJECT STUDY |
| TEN472 | TOOL ENGINEERING PROJECT |